Simple salad - not an easy result!
Pretty simple salad with fruits and herbs.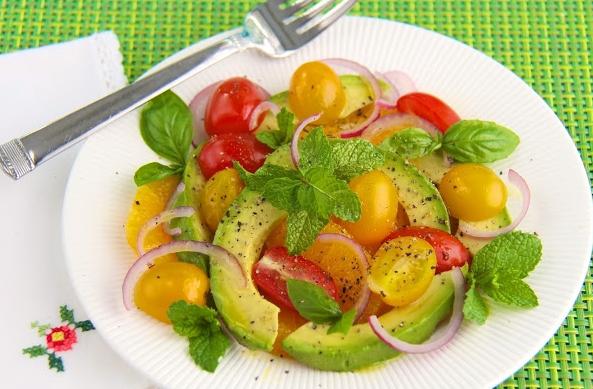 What is required
Two large ripe avocados, peeled from the films and seeds of slices of two oranges, a branch of red and a branch of yellow small tomatoes cut in half, juice of one lemon, tsp. Dijon mustard, four tbsp. white balsamic vinegar, sea salt, freshly ground black pepper, finely chopped basil leaves and mint.
How to do it
Peel and slice the avocado, immediately squeeze lemon juice on them. Mix olive oil, mustard, vinegar, generously sprinkle sea salt and process this mixture with a blender. Arrange avocados, oranges, tomatoes and red onions on a large flat dish. Pour over the sauce. Sprinkle with basil and mint, ground pepper. Done! This simple salad is designed for four to six people.
Light Shrimp Salad
The recipe is not as simple as we would like. However, the exotic is not such a big problem. Upgrade or expand your pantry spices, mayonnaise, oils and sauces! And everything will turn out quickly and simply.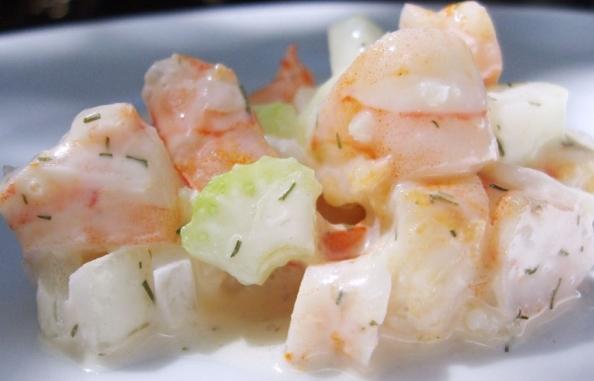 What is required
Thirty large shrimps, adobo (a mixture of soy sauce, vinegar, pepper, garlic and bay leaf - Filipino sauce, for sale) - to sprinkle the shrimp, two tablespoons of coconut milk, four tbsp. paleo mayo (mayonnaise in avocado oil), one garlic clove, three-quarters cup of sweet onion, a pinch of dried dill, a third cup of cubes of peeled and chopped cucumber, st.l. white wine, one celery, a pinch of sea salt, coconut oil (spray).
How to do it
Cover the raw shrimp with ado sauce and fry for three minutes on each side in coconut oil. Cool it down. While the shrimps are cooling, crush the garlic, chop the onion and celery, peel and dice the cucumber. Mix all ingredients in a bowl, adding coconut milk, mayonnaise and dill. Slice the shrimps and place them in the salad. Stir again. Now it remains to cool this light salad with shrimps and serve with borage, sweet potatoes and Thai chicken wings. This is not a very simple salad, rather exotic. But it is really easy!
The easiest salad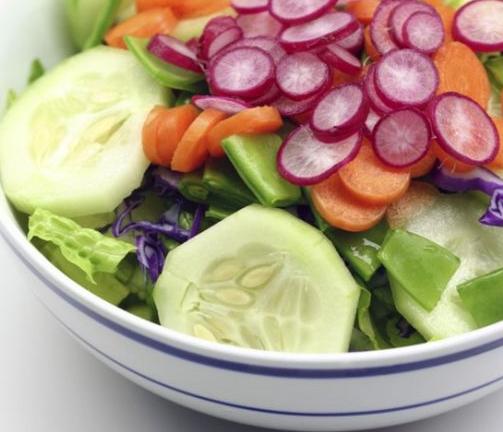 Grown up in the country vegetables.How to cook a simple salad to eat it? Let's cut everything that we have found. Whoever loves big — please, who wants a smaller one — is also not forbidden. Let us add lettuce leaves to vegetables, which the kids will tear up with pleasure with their hands (as recommended by high culinary fashion). And we will not forget to season!
What do we have
Lettuce, basil, dill, parsley, cilantro, mint, spinach, Chinese cabbage, as well as cute kohlrabi coaches, carrots, onions, garlic, tomatoes, cucumbers, colorful fleshy sweet peppers ... We just walked around half of the garden. But, however, enough for now.
How to do it
Cut onions, radishes, cucumbers, tomatoes, spinach, pepper as you like. But carrots and kohlrabi is better to grate on a grater - it will get through faster. Salad, and Peking cabbage, it is better to really tear up your hands, but not too shallow. The main thing is the sauce! Finely chop the herbs: basil, dill, parsley, mint, cilantro, and then load this fragrant mixture into a mortar or blender with garlic, a spoonful of salt and a few spoons of olive oil. Grind to a state of gruel, then dissolve it with a small amount of apple or wine vinegar and mix with the crushed salad mass, and even sprinkle from the heart black pepper from the mill! A simple salad, it would seem. But the results are not simple.So much vegetables without such processing to eat is simply unrealistic. And you seem to be going to the garden in the second round? Is it a simple salad again? Well, the next sauce will be done on sour cream. Bon Appetit!
Related news
Simple salad - not an easy result image, picture, imagery