Rainbow cake: recipe, cooking features and reviews
Do you know how best to cheer yourself up? Bake a bright and positive rainbow cake!
First recipe
This is an ideal option for a children's holiday and just one of the most beautiful delicacies in the field of confectionery. He will surely become the main decoration of the table due to the colorful appearance and wonderful taste.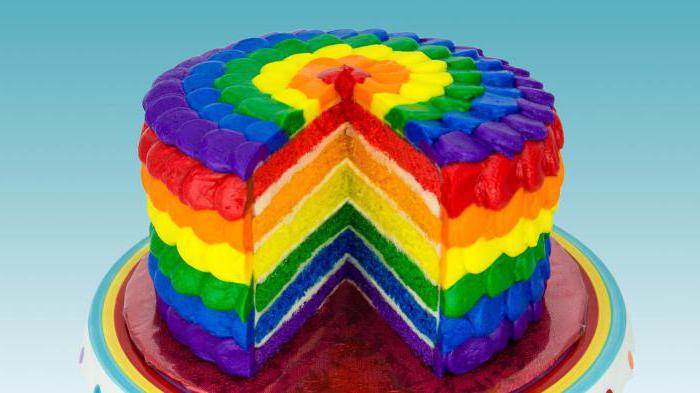 Ingredients for the dough:
food dyes of six different colors (in the following recipe we use natural);
common salt - 0.5 tsp;
baking powder (baking soda) - about three tsp;
flour - 350 g;
warm milk - 1 cup;
margarine (of course, better butter) - 1 pack;
sugar - 1-1.5 cups;
chicken eggs - 2 pcs .;
some vanilla.
Rainbow cake requires precise adherence to its preparation.
1. Mix the sugar, salt and baking powder with flour. This can be done quickly with the help of a mixer, and continue to work with it too.
2Butter (margarine) should be soft, it should be cut into small pieces and, without turning off the mixer, knead in the dough. Stir to obtain a fine homogeneous crumbs.
There we will add the remaining ingredients and continue to beat until a homogeneous consistency, reminiscent of sour cream.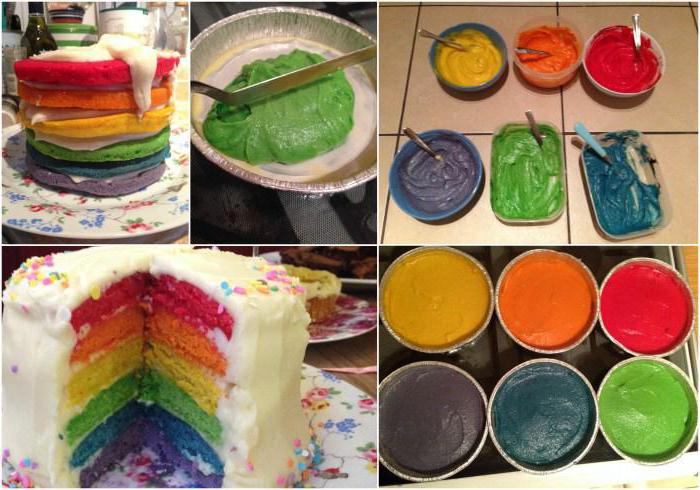 It's time for coloring. Here you can call the children, the process will be interesting. Fold the dough into six identical plates, try to do it evenly. In each container, add a few drops of food coloring, then you need to navigate yourself, visually assessing its brightness.
If the oven is large, and there are a lot more baking in it, the rainbow cake will be prepared very quickly, all manipulations will need a maximum of two hours.
Pour the dough into trays, level with a knife dipped in water and send to bake. In half an hour we will check its readiness with a wooden stick, if necessary, for another 10-15 minutes, leave it in the oven. The baking time will depend on the width of your shape and the thickness of the cake layers.
We take out and leave to cool (we do not set one on top of each other), but in the meantime let's get ready to prepare a cream for impregnation.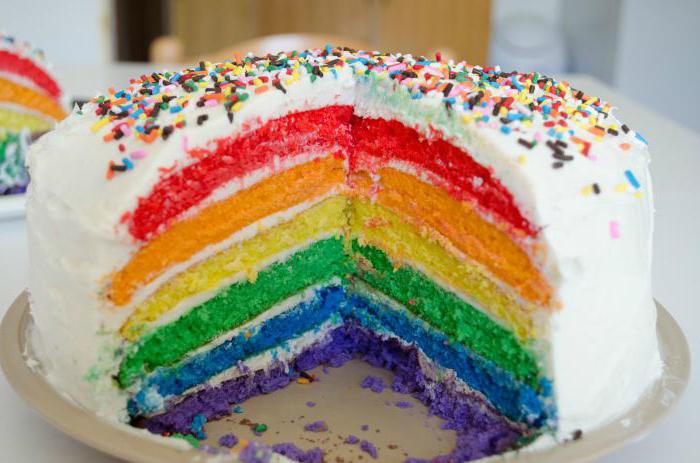 Cream
It should be noted here that each housewife prefers her own version, but many consider it to be the most delicious and tender vanilla-creamy, fragrant and perfect for us according to the consistency.
Ingredients:
- Milk - 0.5 cups;
- powdered sugar (you can sugar, but the cream will not be so tender) - 1.5 cups;
- oil (necessarily well softened) - 1.5 packs;
- a little vanilla essence.
Cooking
In order to get a truly delicious rainbow cake, the cream recipe must be performed exactly, and the mixer should not be turned off until a delicate mousse texture is obtained. So, alternately add all of the above ingredients in the same order and slowly increase the speed (so that the powder does not fly).
Cake assembly
The most enjoyable activity, which will cheer up both children and adults. To begin with, we recall what a rainbow looks like and a sequence of colors in it, and then in the same order we spread our cakes on a dish and carefully soak each one with a gentle cream. That's basically all, the cake is ready. It remains to decorate it to your taste and send in a cold place soak.
Second recipe
Such a rainbow cake at home is easy to do,in principle, it corresponds to the previous recipe, but is more useful for babies who may be harmed by food dyes, as well as for those who watch their diet. There will be no artificial additives in such a dessert, but you will certainly spend a little more time preparing it.
We use the same ingredients, and for dyes we take blueberries, spinach, carrots, beets, or any other fruits and vegetables with bright pigmentation, here everything is decided only by a flight of fancy. We skip each ingredient separately through a meat grinder, berries can be warmed in the microwave, chop, strain the juice and add to our dough, as in the previous recipe. We bake rainbow cakes for the cake, at the same time prepare the cream, let the cake cool slightly, lubricate them and poison the finished cake in the fridge.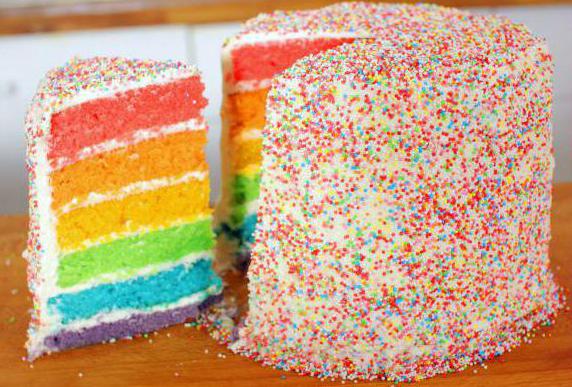 Decoration
This cake is best covered with mastic, you get a real surprise when the children cut it. For this purpose you can use marshmallows. It is better to have two packages at once, there won't be much. We put it in the microwave and warm up well. We take a spoon and mix hot marshmallows with a packet of powdered sugar (200 g), knead like dough, roll out on a table, which instead of flour can also be sprinkled with powdered sugar.The seam should turn out to be thin, but in moderation, we cover the cake with it, smooth and smooth the edges, cut off the excess. Next, decorate the cake at will, you can even Easter multi-colored sprinkles.
Pie "Rainbow"
We figured out how to bake a rainbow cake on our own, and it turned out to be not at all difficult. But there is an even simpler recipe, very beautiful in section, we will not call it a cake, because here you do not need to deal with the cake separately, rather, it is a cake. But the dough for its preparation, take the same and simplify the procedure.
We take a large baking dish, lining it from below with parchment paper, and oil the sides well.
Each color is poured separately (it is better to do it on the flat edge of a wooden shovel), again we recall the rainbow and the correct sequence of colors in it.
Gently put the form with the dough in the oven, after 35-40 minutes we check its readiness with a wooden stick.
The rainbow cake-cake is almost ready, it remains to cut it longitudinally in half (it will turn out two cakes) to smear with cream and leave for half an hour to infuse. Extraordinary beauty turned out.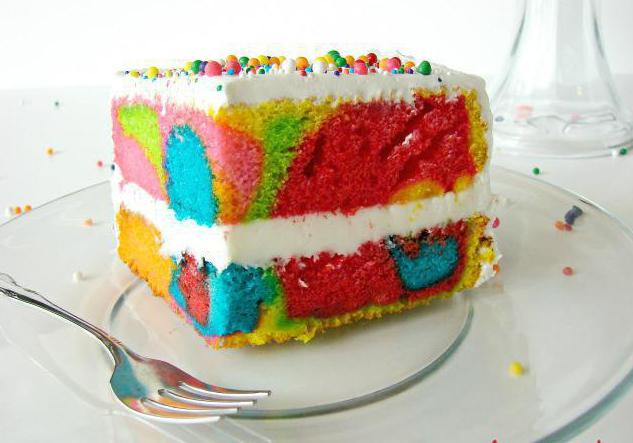 "Bondibon"
If you want to introduce a child to such an interesting lesson, do it boldly, the kid will have plenty of impressions, and cooking skills will always be useful in life. A modern manufacturer advises moms to buy "Rainbow Bondibon Cakes", that is, creative sets specially designed for this activity. They are good because they bake bright biscuits and prepare rainbow dough with them is incredibly easy and even kids can. The set includes a number of special pastry fixtures that allow making sweets in the form of hearts, asterisks, there is a whole package of various nozzles. For a small sweet tooth, there is also an instruction that allows you to bake not one rainbow cake, but twenty-five of its various options. Products, of course, are not included in the kit, and all devices are made of environmentally friendly materials and are absolutely safe for kids.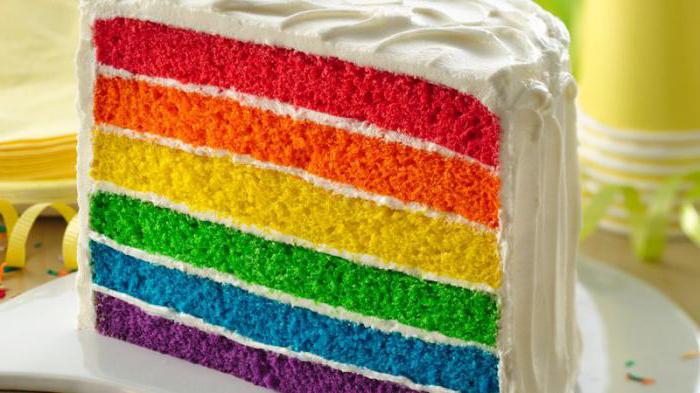 Feedback and Comments
Of course, the cake, and especially its appearance, is incomparable. And in order to surprise the guests, it is worth preparing it, but many are scared away by the large color gamut of various dyes. The solution is simple - replace them with natural ones, there are so many of them, and in order to get brighter color and cakes, increase the concentration of the juice. There are simply no other comments, everyone's cake is extremely admirable.
Related news
Rainbow cake: recipe, cooking features and reviews image, picture, imagery