Meat rice: a recipe. Rice in pots with meat
In this article we will explain how to cook rice with meat. There are many ways to create such a culinary wonder. You can cook rice in meat pots, with cabbage, mushrooms, etc.
Where did the food come from?
The fashion for cooking dishes based on rice and meat came to us from Eastern countries. The very first who tried to combine these products were the Persians, later they got this baton from the inhabitants of Central Asia, and then similar foods spread to the West. Nowadays there is a great variety of dishes, which are based on rice and meat.
Most likely, the most popular of them is plov. It is traditionally considered that this is an oriental cuisine; meanwhile, all nations prepare it in their own way. Along with the "traditional" cooking of pilaf, there are other ways of cooking. All relate differently to alternative recipes. But in any case it is better to make delicious rice with meat, rather than tasteless pilaf. So, from words to deeds. In general, it is easy to make rice with meat.Recipe, clear for the hostess with any experience. You can cook such a dish in a regular frying pan.
First way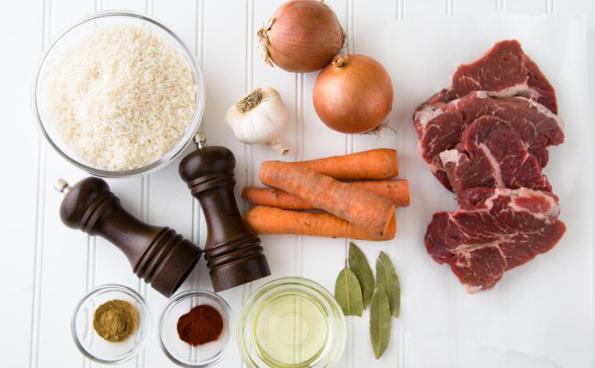 To cook rice with meat in a skillet, we need:
2 pcs. Luke;
400-500 g of beef;
salt;
one cup of rice;
1-2 pcs small carrots;
pepper;
butter.
Cooking
For this dish is best beef shoulder. The meat should be cut into small pieces, each weighing about 40 grams. Melt 60 g of butter in a skillet. Fry the meat on it until golden brown. Do not forget to salt and pepper.
Next stage. To the already roasted meat, add chopped carrots and onions. Stir all foods and simmer over low heat until the meat is soft. By the time it takes about 1 hour. When boiling water pour it in small portions.
Rice is best to choose oblong. Before cooking it must be thoroughly washed and left in water while the meat is being cooked.
When the beef is ready, add boiled water (two to four cups).
Then take the rice and add it to the finished meat. Pay attention to the croup was covered with water.
After boiling, reduce the heat to minimum and cover the pan with a lid.Approximately 15 minutes to simmer until cooked rice. By this time, he should have time to get ready and become crumbly.
Look under the cover. The first sign of readiness - all the liquid is absorbed. If desired, it is possible to hold rice with meat on a small fire without a lid. It is necessary to absorb the remnants of excess fluid. That's all, the dish is ready. You can sprinkle it with greens.
With cabbage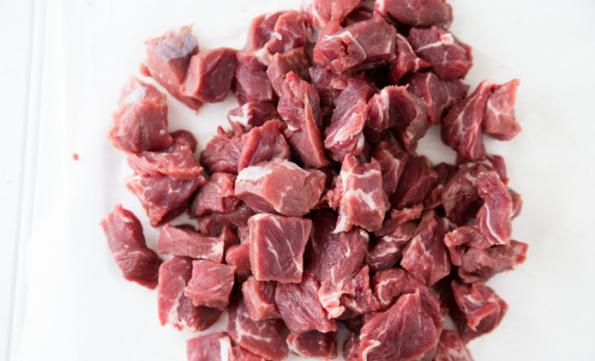 To cook rice with cabbage and meat, you need the following ingredients: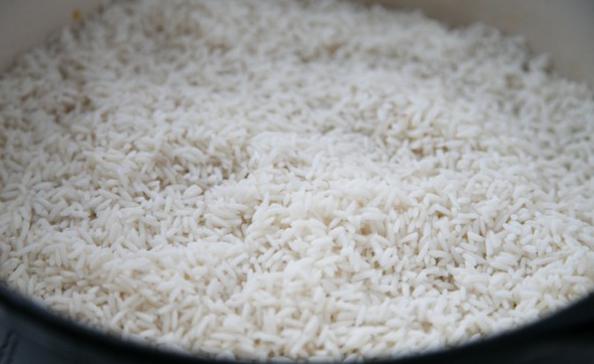 Cooking
To cook this dish, you need to cut the pork into small slices and put it in a cauldron with vegetable oil preheated in it. Fry the meat for half an hour.
Add spices at this stage. Then chopped onions and carrots fry for 20 minutes. Then add chopped cabbage to the cauldron, mix and cook for 20 minutes. Boil rice in advance until half cooked and now add it to the cabbage with meat and stew for 10 minutes. Done!
There are many more ways to cook rice with meat. Next we look at one of them.
Braised Cabbage with Rice and Meat
This is a good dish for a family table. And what ingredients will be needed to cook it? Now we list.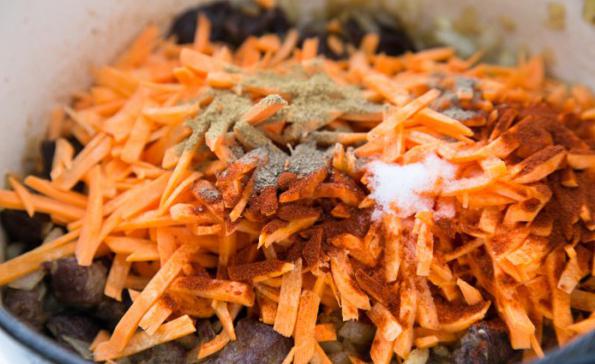 Ingredients:
300 grams of pork;
1 kg of cabbage;
black pepper;
2 pcs. carrots;
Red pepper;
3 pcs. Luke;
half a cup of rice;
salt;
three art. l vegetable oil.
Cooking process
A piece of pork, thoroughly washed under running water, should be cut into small pieces. Heat the sunflower oil in the cauldron or stewpot and put the meat in it. Fry until brown crust. Cover the cauldron and stew the pork over low heat.
Wash rice and boil until cooked in well-salted water.
Then comes the turn to the cabbage. We take a small head, free from the upper leaves, cut into halves and remove the stalk. Next you need to chop cabbage. Then grate carrots (not very large), and cut onions into cubes.
In a cauldron with roasted meat lay out shredded cabbage. Constantly stirring, fry it with pork over high heat.
Onions spread in a frying pan and fry a little. Now add carrots to onions and fry. Also pour in tomato paste (diluted with water). Fry the mixture for 1 minute. You can optionally add a little sour cream, stir a little, heat and remove from the stove.
Then we transfer the rice and roasted vegetables to the cauldron to the meat. Add another pinch of hot pepper and salt to taste. Stir, cover and simmer for 10 minutes. So you can still cook delicious rice.

Cooking in a pot
To cook rice in pots of meat, we need the products we are used to. Which ones? We will now list you.
Ingredients (number of products for 3 pots):
300 grams of pork;
5-6 glasses of rice;
2 pcs. medium onion (bulb);
2 pcs. medium carrot;
spices (whatever you like);
salt to taste
Meat rice: cooking recipe
It is necessary to wash the rice well.
Onions must be chopped with carrots.
Then 10-12 minutes should fry diced meat. Then add carrots and onions, then stew all together for 7 minutes. Salt and pepper.
Divide the fried mass into two equal parts.
Now we need pots. You need to add a small amount of oil to the bottom. One part of the fried mass is put in all pots. And put rice on top. Now on it we report the second part. Remember that rice in the cooking process will be more in volume. Therefore, make sure that the contents of the pot took no more than half of its volume. All this is filled with hot water.We preheat the oven and put the pots there for half an hour, cook at a temperature of 190-200 C. Done! Bon Appetit!

Conclusion
Now you know how to cook tasty rice with cabbage and meat. Remember, no matter what dish you cook, it is important that at this moment you have a good mood. After all, it is the key to a delicious result.
Related news
Meat rice: a recipe. Rice in pots with meat image, picture, imagery