How to wash suspended ceilings at home: choose a safe way
The new stretch ceiling will sooner or later be covered with dust, soot and soot from the stove and lose its original appearance. Cleaning the ceiling is not the most pleasant thing. If you do not know what means to use and how to clean the surface without staining, it becomes an impossible task, which is postponed for a long time. And to remove old stains becomes difficult. However, in fact, suspended ceiling does not require complex maintenance.
How often should stretch ceilings be washed?
High-quality stretch ceilings are treated with special compounds that repel dust and grease from the surface. But the canvas will still be contaminated, especially in the kitchen. Clean the hinged structure at least twice a year. Time the cleaning to the interseasonal cleaning to wipe the walls and windows at the same time.The first general cleaning is carried out 4-6 months after installation. If the room is being renovated, after completing the work, wipe the surface of the ceiling with a soft, dry cloth from construction dust.
Cleaning is done depending on the type of material. There are such types of ceilings as:
Fabric - from natural or synthetic matter. This surface is considered to be difficult to maintain, as the fabric turns yellow with time, quickly absorbs odors and dust.
PVC - a film ceiling. Not so fond of grooming, he is not afraid of water, does not absorb fat and dust.
During normal cleaning, it is enough to sweep the ceiling with a soft cloth or to walk on the surface with a vacuum cleaner. But if it has traces of old paint, rust from water leaks, then the fabric will have to be painted or even completely replaced. However, before calling installers, it is worth trying a few folk councils that can return the ceiling to its original appearance.
It is believed that matte and satin PVC ceilings are the most unpretentious in care.On a glossy finish, stains remain after wet cleaning; it is easy to damage it with hot water and detergents.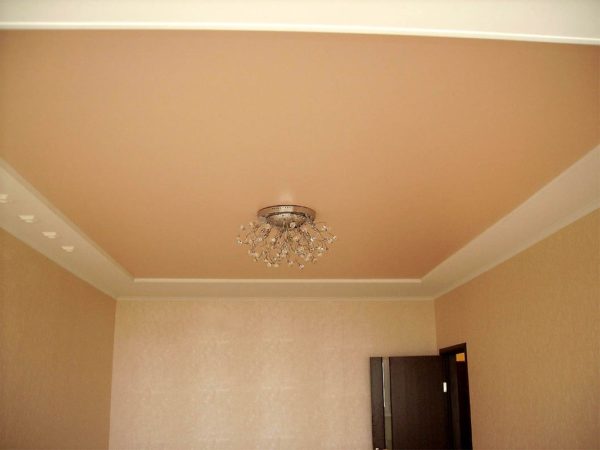 Caring for frosted ceilings is easier than glossy, on which there can be stains
How and what to wash stretch ceilings
To quickly wipe the ceiling from dirt, use a mop with a mop nozzle and a telescopic handle. You do not have to climb the ladder and move it from corner to corner. A sliding handle will reach from the floor to remote corners, will help wipe the upper parts of the cabinets and walls. The tension surface is very sensitive to pressure, therefore, in order not to leave marks or scratches on it, use only soft tissues that do not shed and do not lose hair.
Ideal for cleaning - it is a microfiber, modern, practical and soft material that perfectly absorbs water and collects dirt. A wide soft foam sponge is also useful, but not with an abrasive surface.

For cleaning, prepare a soft cloth, sponge, mop and spray
All types of ceilings can be vacuumed and cleaned with a steam generator. To clean the ceiling with a vacuum cleaner, put a microfiber attachment on the floor brush. It will not damage the surface and will collect dust.
For professional cleaning, a steam generator is often used, which will quickly clean the soot, soot and grease from the ceiling, returning the surface to its original purity.From the effect of steam, the material sags, and then returns to its original state.
Video: how to wash stretch ceilings with a washing vacuum cleaner and a steam generator
I am professionally engaged in cleaning the apartments and work the most inexpensive steam generator, at the moment, this is Elby ... Awesomely launders suspended ceilings in some 15 minutes.
In the instructions to the ceiling there is always a note on how to care for its material. But there are such tools that have already been tested by time and can be used to clean the surface. The effectiveness of these compositions is confirmed by reviews of satisfied housewives. It:
Professional cleaner for ceilings EdelWeiss, Nouvel in sprays. They are convenient to apply and they are suitable for any materials.


There was such a case ... Grandmother put the stew in the stew ... And fell asleep ... The ceiling was VERY very bloody. Special liquid Edelweiss helped, but the "sediment" remained. They offered granny to pull over with a big discount. Refused. Said and so happy, I will die with him.

I have been using Nouvel for three months already, until it removes all the dirt on the ceilings without any traces, I am satisfied with this tool.

When washing the ceiling is convenient to use a spray

Cleaning products from Faberlik, LOC from Amway, which cope with greasy stains without damaging the structure of the ceiling material. They are suitable for all types of tension structures.


Amway has a series of kitchen products. LOC concentrated and ZOOM. It definitely won't hurt the ceiling. ZOOM even wash the hood. But we must wipe dry immediately so that there are no divorces.

Soap solution from white children's soap and dishwashing detergent will wash away stains from textile and PVC ceilings.


We have a tension in the kitchen, all stains, including and traces of fat, are well washed off with a soft soap rag. Last year, when harvesting preservation, the wife "twisted" tomatoes on a juicer and it so happened that she splashed onto this stretch ceiling. I took a rag, wiped it off, and there was not even a trace left.

Aqueous solution of ammonia copes with dirt on film ceilings. It is in the composition of most of the funds for mirrors and glass, so you can use them.


My tool for glass and microfiber cloth or car. Dust is, just once a year to wash. We washed after the children. Daughter accidentally cocktail chocolate dripped, jumped with him.
Note that in most cases, the use of household chemicals is not justified.If you periodically wipe the surface, you do not need strong tools. If there are noticeable stains, it is recommended to check whether the composition is suitable for cleaning exactly to your ceiling. To do this, make a weakly concentrated solution, put it on a sponge and wipe the ceiling in the corner. If after a few minutes the product is well washed out and there is no visible damage on the surface, treat the remaining space.
How to clean the stretch ceiling without stains
A soft cloth is enough for dry dusting, but it is more convenient to do this with a vacuum cleaner. Turn it on to its minimum capacity and, if there is no special nozzle, collect dust, keeping the hose at a short distance from the ceiling. So a thin coating does not suck inside the vacuum cleaner. Check beforehand how well the web is fixed and stretched.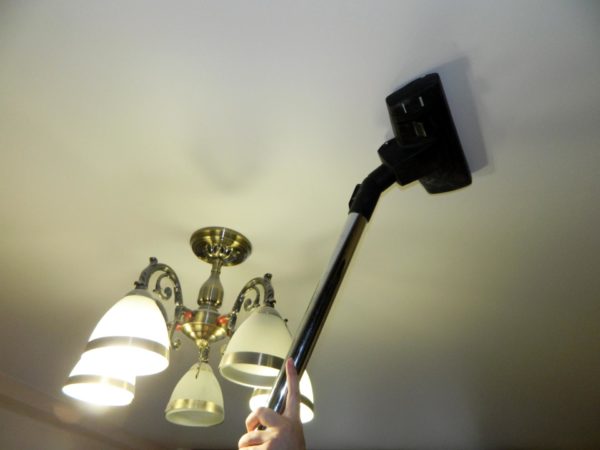 Before starting wet cleaning it is recommended to dry clean the ceiling with a vacuum cleaner.
Vacuuming can be done before washing the ceiling. Wet cleaning is done in a few tricks:
The ceiling is cleaned of dust.
Apply detergent, and better - lather.
Wash away dirt and soap.
If the stains remain, use a special tool and wash it off.
Wipe dry.
Soap foam doesn't erupt so much into the surface and it's easier to wash it off. Therefore, do not use concentrated detergents.
It is necessary to wash the ceiling during the day, in natural light, so that there are no stains from one corner to another.If you wash in a circular motion, be sure to remain divorces.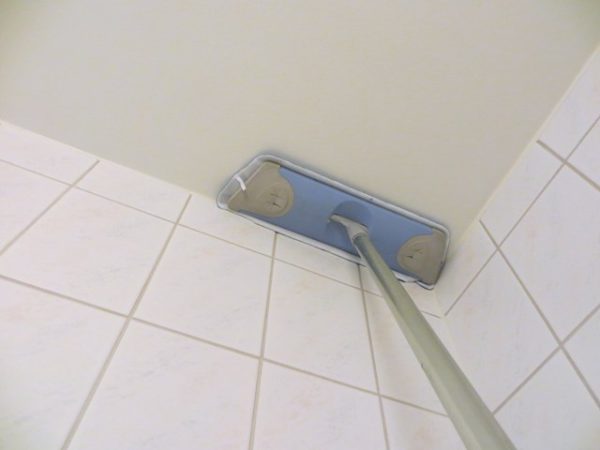 When washing the stretch ceiling, cleaning should start from the corners.
These are the main stages of cleaning, but depending on the type of material, there are some nuances.
Care of the film ceiling
PVC ceilings are chosen most often. They are produced with a satin, matte and glossy surface. The latter are especially popular because they visually increase the space. But it is precisely on them that all the divorces after cleaning are clearly visible. To make them less, use a 10% solution of ammonia. After washing, all smudges are cleaned with a soft nap cloth. You can also use detergent diluted in water. It will clean the ceiling of fat, and to avoid stains - carefully rub the film with a paper towel, which will return to her gloss.
Frosted surfaces are easier to clean, they are not so visible traces of rags. Shake the soap solution into the foam and apply it to the ceiling, then rinse with warm water. Finally wipe with a dry cloth. To clean, take a mop and wrap it with a soft cloth.
There are special sponges and polishes for PVC ceilings. These funds are good in that they almost do not leave a divorce, unlike the usual wet cleaning. You can use car polishes, which will give the surface shine and protect against stains and dust.
Tips for caring for the film ceiling:
Spots from film materials can be easily removed with white stationery.
Fat is washed off with dishwashing detergent.
The emulsion paint will easily fall off if wetted with warm water, left for a while and removed with a soft spatula.
If during the cleaning there was a cut, seal it with transparent tape, and then contact the service for repair of ceilings.
Fabric ceiling care
Textile surface creates a cozy, but also requires more serious care. If the film is easy to clean and easy to fix, the fabric, especially colored, requires more attention.At leaks on such ceilings there are dirty stains from water that can not be removed. The only way is to wash away the visible dirt and paint the fabric with water-based paint. Textile ceilings can be painted up to 10 times. You can remove other stains in the following ways:
Foam must be removed with special solvents, following the instructions clearly. Do not apply the product to the entire stain at once. Treat a small area, and when it clears, go to the next. Then wash the place with soapy water.
Greasy stains. Do not use hot water. Dilute the soap, let the water cool down and then start cleaning. Do not press on the surface, it may tear, and its elasticity is lower than that of PVC.
Textile ceilings should not be cleaned with glass cleaner and use ammonia. Wash the canvass in a straight line. Although you can brush such a ceiling with a brush. Do not use a broom that will not only scratch the fabric, but also leave pieces of rods on it.
How to wash stains on the ceiling
The easiest way to remove stains from a stretch ceiling is soapy water.She even copes with the kitchen soot, which gives the canvas yellow.
Unfortunately, the yellow tint itself can not be removed, so you need to initially choose the color of the ceiling in the kitchen in warm shades.
Table: how to clean stains from PVC and fabric stretch ceilings
Pollution type
Fabric
PVC
Fat
Soap solution
Soot
Steam cleaner
Steam cleaner / soap solution / ammonia solution
Cigarette smoke
Car Interior Cleaner
Soap solution / ammonia solution
Ketchup
Hydrogen peroxide solution (35-50 ml per 5 l of water)
Paint
Soften with soapy water, remove with a spatula
Marker
Weak alcohol solution / soap solution
Stains after the flood
Paint with emulsion paint
A solution of soda ash 5%
Clay "Cosmofen"
Dimexidum solution
Champagne
Weak alcohol solution
Lather
What not to do when cleaning stretch ceilings
In order for the ceiling to serve as long as possible, use these tips:
Do not use acid and alkali based products.
Work in gloves, removing rings and bracelets, so as not to damage the canvas.
Use only those compounds that fit your ceiling type.
Do not smoke in the room and regularly ventilate the room.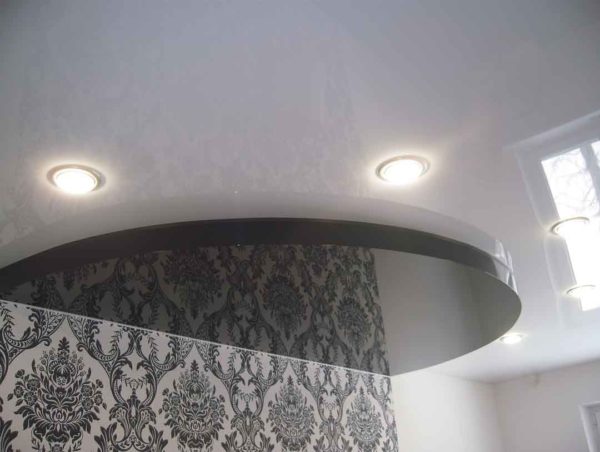 If you follow the recommendations on cleaning, the stretch ceiling will delight the owners for its perfect condition for a long time.
What definitely can not be used when cleaning:
Do not wash the ceiling with abrasive particles: substances like "Pemolyuksa", dry soda and detergent. They not only scratch the surface, but also penetrate into the structure of the material, so they are difficult to wash off.
Do not use alcohol products for textile ceilings. They damage antistatic impregnation.
Coarse brushes, wool with a hard surface.
Means containing dyes.
Do not use acid and alkali. Even ordinary vinegar can ruin the surface hopelessly.
Soap should be light, you should not take the dark economic and tar - from them will remain greasy traces.
Chlorine is able to completely destroy the structure of the tension fabric. Do not use it at all.
It is forbidden to scrub the stains with solvents and acetone. These products are not suitable for PVC and leave greasy spots on the textile surface.
To keep the stretch ceiling as long as possible in its original form, use only soft formulations and care products designed specifically for this type of surface.Frequent cleaning tension fabric is not needed. It is enough to wipe its usual soapy water a couple of times a year, and the ceiling will be as fresh as new.
Related news
How to wash suspended ceilings at home: choose a safe way image, picture