How to use paper forms for cupcakes? How to bake cupcakes in paper forms?
If you are going to serve self-cooked cupcakes to the festive table, please note that this is recommended in paper forms. The original packaging not only looks very unusual, especially when matched in a party style, but also allows you not to smear your hands with food. The cost of cupcake molds is low, such packaging has no effect on the duration of baking in the oven, so you can safely buy paper wrappers and start baking products. It only remains to clarify a few points: do you need to lubricate the form before baking and how much dough to pour into it? You will find answers to these questions in our article.
What are the forms for cupcakes, and whether they need to be lubricated
Paper baking molds have numerous advantages. First, their use allows you to keep the dishes clean - you do not have to spend your free time cleaning the metal mold. Secondly, hands remain clean while eating.Third, they are inexpensive, every hostess can afford to buy them. But there is a significant drawback in such forms. The fact is that thin parchment does not withstand the mass of dough and begins to deform. As a result, the products become similar to cakes. To avoid this? bake muffins should be in metal forms, after inserting paper in them.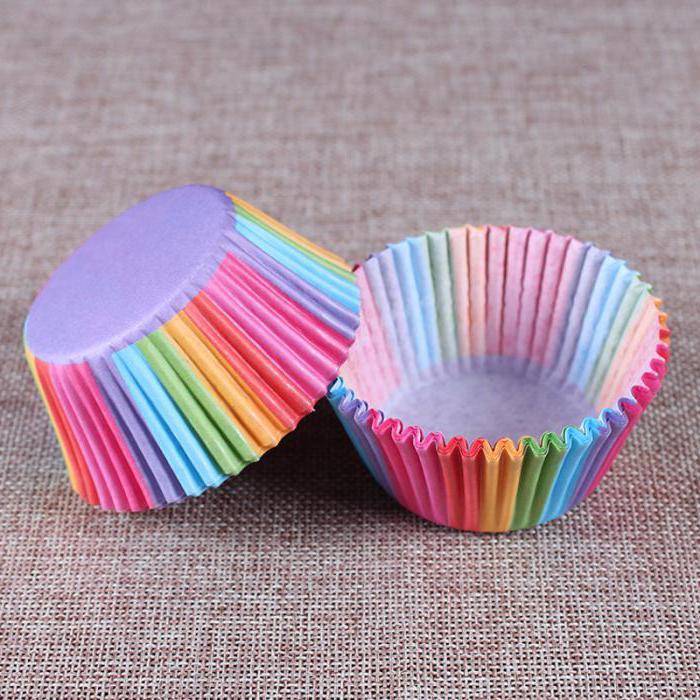 On sale you can find different types of forms for cupcakes:
from parchment for baking;
from the laminated paper;
corrugated paper;
from a dense cardboard;
with a side;
with reinforced edge;
with laces and others.
The choice of a specific form depends on the solemnity of the event, for which the baking is being prepared. On the wedding table, lace will look tenderly and elegantly, and ordinary parchment will be suitable for home tea-drinking. Often the housewives have a question: do you need to lubricate paper forms for cupcakes or not? Additionally, such forms need not be lubricated, since they are made of special oiled paper. Due to this, the finished product does not stick to it.
How to make molds for cupcakes yourself
If you forgot to buy paper forms, and the dough for muffins is ready, in just 5 minutes you can make them yourself. To do this, you will need parchment for baking, compasses, a simple pencil, metal molds for muffins and an ordinary glass.
The first step is to measure with a compass the diameter of the metal mold for muffins. To the result obtained, you must add 2 cm (diameter of the bottom). Then, using a compass, draw a circle on the parchment. In order to make several forms at once, the paper needs to be folded threefold, and then cut several circles along the pattern.
To make a real paper cupcake mold, each circle needs to be wetted in water and put between two metal molds. Wait a few minutes for the paper to dry, and then begin the baking process.
Paper forms for cupcakes: how to use
So, you have ready-made paper molds, but you do not know how much to pour the dough into them to make delicious cupcakes? Everything is much simpler than it seems at first glance. How to bake cupcakes in paper forms can be found in the following step-by-step instructions: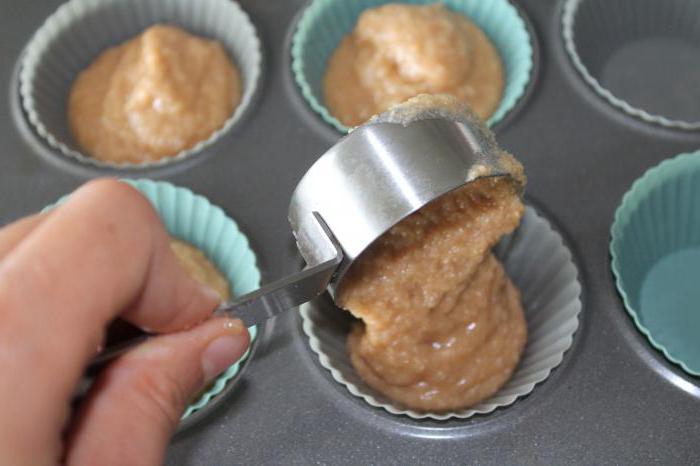 Buy forms for cupcakes that match the theme of your party, or make them yourself from parchment.
Each mold should be put in special grooves in a baking sheet or in metal cupcakes.
Fill the dough. If you want the products to turn out high, pour ¾ of the dough volume, if lower, no more than half.
Bake cupcakes according to the recipe in a preheated oven.
If you do not have a special tray with grooves, you can only use forms.
Paper muffins in the oven
There is a large number of recipes for muffins: from simple to complex, with raisins, dried apricots, prunes, chocolate and others. We offer to cook the most simple, inexpensive, but no less tasty of all.
According to the recipe, you must beat two eggs with sugar (100 g) to obtain a fluffy foam. Then sour cream (3 tablespoons) or the same amount of mayonnaise, a pinch of salt, soda (½ tbsp), a few drops of lemon juice, softened margarine (one hundred grams) and flour (one cup) are added to the dough. The consistency of the dough should resemble thick sour cream.
For cooking in the oven you will need a paper baking dish for muffins. To do this, it is distributed on a baking sheet, and spread out the necessary amount of dough inside.Muffins are baked at 210 ° for twenty minutes.
Chocolate Cupcakes
In this recipe, in a short time and without much hassle, you can make delicious and fragrant cupcakes.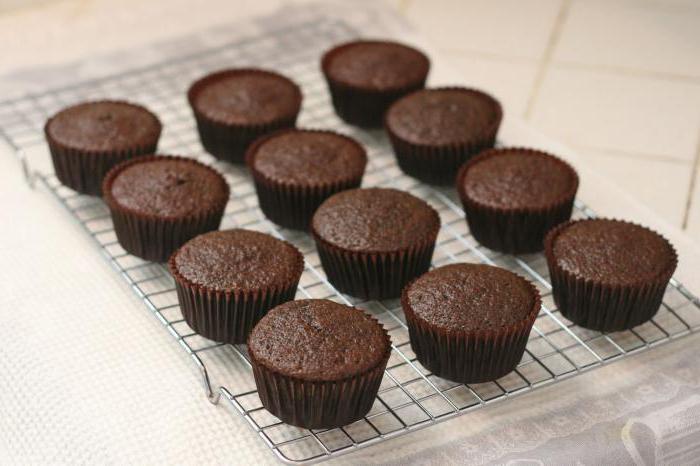 The cooking sequence will be as follows:
Sift flour and sugar (2 tbsp.), Cocoa powder (1 tsp.), Soda (2 tsp.), Baking powder and salt (1 tbsp.) Into a deep bowl.
Add 2 eggs to the dry ingredients, as well as a glass of water and kefir, vegetable or melted butter (½ tbsp.).
Heat the oven to 180 °.
Put paper forms for cupcakes into metal cupcakes. Inside pour the batter.
Put the muffins in the hot oven for 25 minutes.
If desired, you can decorate the cooled products with cream based on cream cheese or Swiss meringue.
Cupcakes in a multivariate
Not everyone has an oven in the kitchen. Many people prefer to use the slow cooker for cooking main dishes and baking. To bake muffins in this kitchen assistant, it is recommended to use a paper muffin pan. To prepare the dough, you can use one of the above recipes.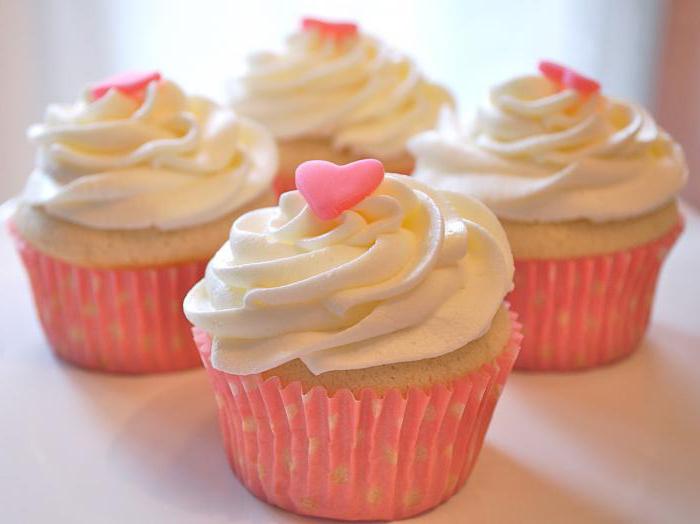 Put the cupcake molds in the bowl of the multicooker (fold several pieces of paper into one, so that the shape becomes denser and does not deform). Spread dough on the spoon - no more than ¾ of the volume of the formClose the multicooker lid and set the Baking mode to 45 minutes. Let the cupcakes stand in the bowl for another 10 minutes after cooking. Open the lid of the multicooker and put the muffins on the plate.
Microwave Cupcake Recipe
Would you like to make delicious and flavorful muffins for breakfast? You can do it in just 5 minutes if you have a microwave in your house. Preparing muffins in ceramic cups or glasses, and to make them easier to get, it is recommended to use paper forms.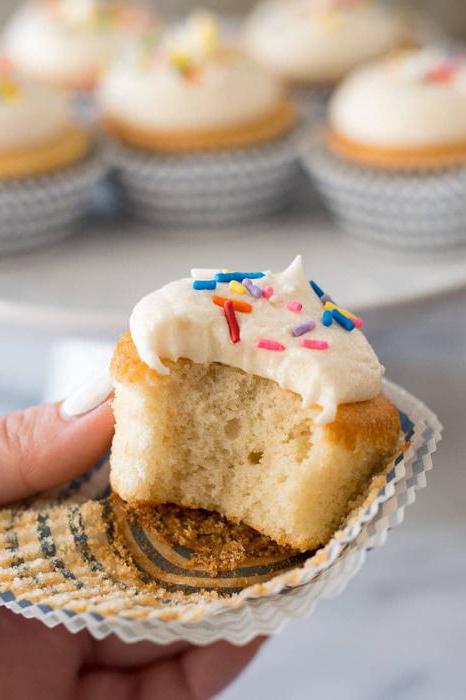 To prepare the dough for 4 servings you will need: flour (4 tablespoons), condensed milk, cocoa powder, vegetable oil (2 tablespoons), milk (3 tablespoons), vanillin and 1 egg. All ingredients are mixed with a fork to obtain a homogeneous consistency and laid out in paper forms for muffins. In a 800-watt microwave oven, products are cooked in just 4 minutes. After that they can be served for breakfast. In a similar way, ordinary cocoa-free muffins are prepared. To do this, replace the amount of cocoa powder specified in the recipe with flour.
Related news
How to use paper forms for cupcakes How to bake cupcakes in paper forms image, picture, imagery