Construction lessons: do-it-yourself foundation plate
Anyone who has been engaged in low-rise construction in conditions of ground instability knows that a monolithic foundation should be used to avoid the appearance of cracks and deformation. Its price is much higher than, say, a tape one. However, a foundation slab is the most sensible choice for close groundwater and other soil problems. In addition, the process of its manufacture is quite simple, although quite laborious. The foundation - a monolithic slab refers to shallow types of the foundation, since it basically fits simply on the ground, although it is necessary to make a sand pillow for it. So that the technology of the device was more understandable to you, let's consider everything in order.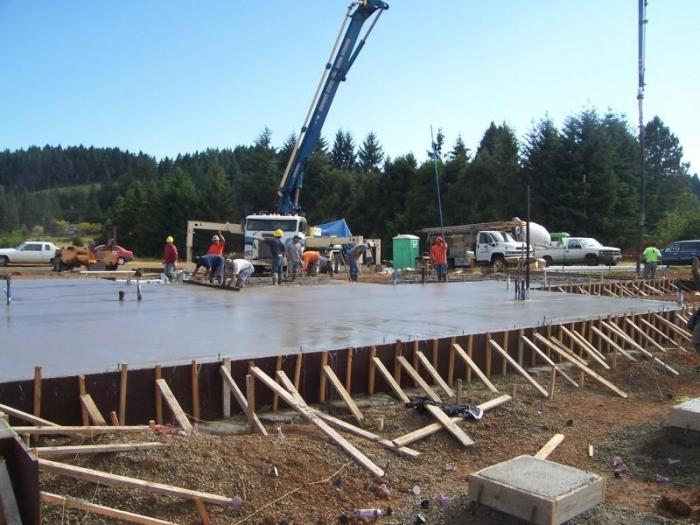 Base plate do it yourself
First you need to align the relief. Then make border markings where your foundation slab will be. Now, about a thirty-centimeter trench is pulled out; if there is water at the bottom, then it is necessary to immediately make a high-quality drainage.To do this, dig trenches, lay them out with geotextiles and lay plastic drainage pipes. Thus, the water will leave, and it will be possible to continue the construction of the foundation. Now geotextiles are laid at the bottom of the excavation, for example, dornit with a density of 400-600 g / m2(it will not allow the next layers to get into the ground over time), crushed stone and sand are poured on top. Next you need to level, fill with water and tamp the surface with a special vibrating table. On top of the lined material for waterproofing, for example, a dense polyethylene film. Heat insulation is placed on it - sheets of extruded polystyrene foam. Now it was the turn to put the formwork. To prevent the concrete from spreading, cover its walls with polyethylene.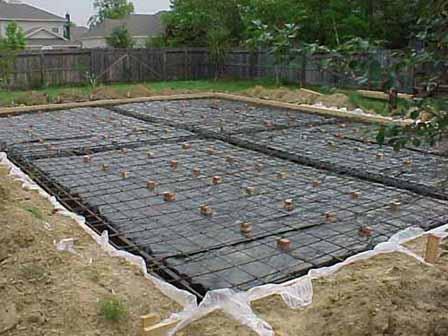 Reinforcement
In order for your base plate to not start to collapse due to cracks, you need to increase its strength. This is achieved by double-layer reinforcement. As a result, you should have a grid with cells of 20 x 20 cm. Before laying it, make a protective pouring of concrete 3–3.5 cm thick and supports on the site prepared for the foundation. These can be ordinary bricks.Now the first layer of the reinforcing mesh is laid, then again the support bricks and the second layer of the mesh. To create it, use fittings with a cross section of 10-14 mm rods.
Pouring concrete
After successful reinforcement, you can proceed to the next stage. So, to fill the foundation will require a fairly large amount of high-quality concrete solution. His brand should not be below M200. Start pouring concrete from the far edge of the formwork. To keep your base plate smooth and free of air bubbles, use a deep building vibrator. And in order to avoid drying too fast in a hot time, and as a result of cracking of concrete, water it from time to time.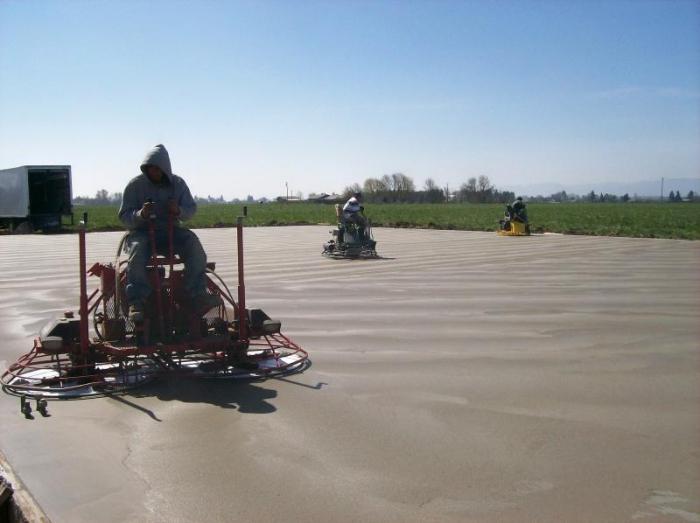 Depending on weather conditions, the base freezes in 7-20 days. After this period, you can remove the formwork, well, and the walls of the house can be erected after the full and final "maturation" of concrete.
Related news
Construction lessons: do-it-yourself foundation plate image, picture, imagery