Comrades women, remember: sex leads to infertility!
Time for amazing stories!
Health Minister of Chuvashia, Vladimir Viktorov, pleased the public with the news of science. It turns out that Chuvash scientists have made a real breakthrough and found that a certain number of sexual partners in a woman leads to her infertility.
In any case, the Minister was not ashamed to announce this at the event on the results of the development of the city of Novocheboksarsk in 2017:
"If a woman before the birth of the child had 7 men - then 100 percent sterility.
This is for information this fact. An interesting topic, yes? Immediately all revived. So think about it! "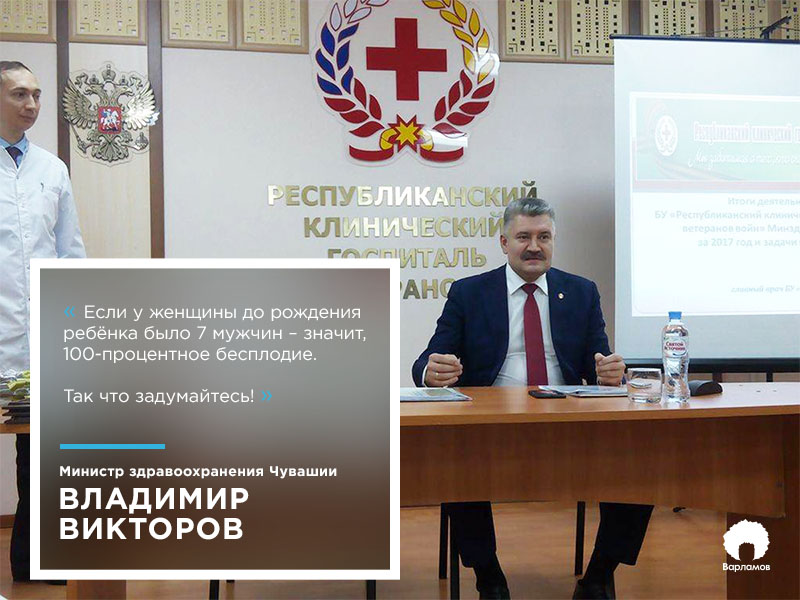 The statement is so wonderful that the publication Pravda PFD even posted an audio recording (if it suddenly disappears, I'll post it too).
I wonder why exactly 7 partners are a critical number? Well, okay, who are we to argue with the experts!
While around the world, scientists publish research on the benefits of sex for health, including reproductive, the severe Chuvash Ministry of Health stands on its own and recommends that girls do not have sex before the wedding.But in a country where a children's ombudsman talks about the "uterus information-wave memory", this is no longer surprising.
We are now waiting for recommendations for men. Following the logic of Mr. Viktorov, if a man replaces 7 girls before the wedding, he will not have to stand then. By the way, Vladimir Viktorov is the holder of the scientific degree of the candidate of medical sciences in the specialty "Dentistry".
In general, such statements recently sounds more and more.
For example, Metropolitan Hilarion of Volokolamsk (he is the chairman of the Department for External Church Relations of the Moscow Patriarchate) believes that Orthodoxy heals homosexuality:
"Pastoral experience with people with homosexual orientation shows that in very many cases a person can either get rid of it completely or build his life so that it does not prevent him from being a full-fledged family man."
Yevgeny Roizman, the mayor of Yekaterinburg, was surprised in his time.

It is not terrible that someone makes such statements - are there many crazy people in our world? It is terrible that these are people living on our taxes with you, holding public office.For our money, they feed us by shit from the screens. Okay, you can not listen to the priest with his blue fantasies, but when the Minister of Health is engaged in anti-scientific obscurantism, it becomes really scary.
Related news
Comrades women, remember: sex leads to infertility
Comrades women, remember: sex leads to infertility
Comrades women, remember: sex leads to infertility
Comrades women, remember: sex leads to infertility
Comrades women, remember: sex leads to infertility