Chanterelle - a favorite salad
It looks very colorful on the festive table "Chanterelle" - the salad is bright, juicy and tasty. There are several options for its preparation, and each deserves the closest attention. Some ingredients differ from recipe to recipe quite strongly. But all the variations are united by the presence of a fairly large number of carrots. Let's make a reservation right away: lovers of beautifully decorated dishes who have a penchant for drawing can make a snack in the form of a cunning red animal. But for those who doubt their artistic abilities, you can not get upset and do without it - the salad will not suffer at all without such appearance and will remain tasty and colorful.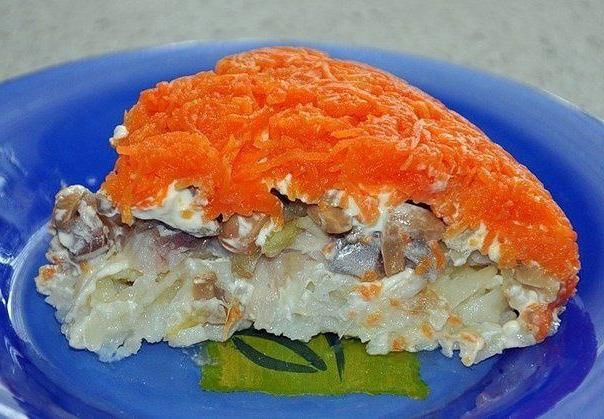 "Chanterelle under a fur coat"
Not everyone likes in the famous fish salad, known as "Herring under a fur coat", the taste of boiled beets. And here they are very much rescued by the Chanterelle salad: the recipe suggests replacing this vegetable with mushrooms. Its performance will be somewhat different from the traditional, but the result is very interesting.
The preparation is almost normal: potatoes are boiled, cleaned and rubbed. The herring is disassembled, the bones are removed, the flesh is cut into small pieces. Further innovations begin: canned mushrooms crumble into thin strips. One onion, cut into half rings, is fried; after gaining a golden hue, mushrooms join it. The second onion, processed similarly, is fried along with three medium grated carrots.
Now our "Chanterelle" is going to: the salad is laid out, as it should be, in layers. Below - fish, smeared with mayonnaise; on it mushrooms with onions are distributed - and again mayonnaise; next - potatoes, also missed; and crowned carrot creation. Two hours for impregnation - and you can eat.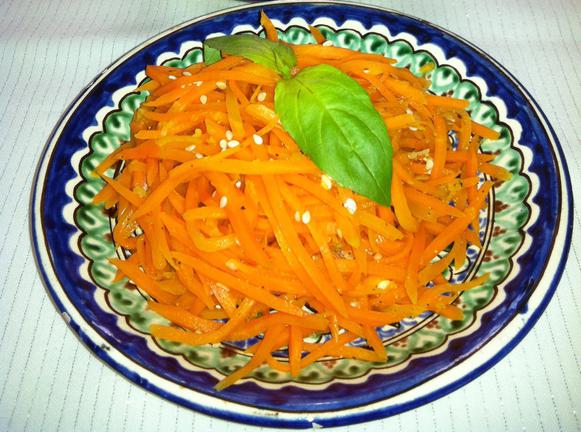 Korean Chanterelle
For the salad in the original recipe is recommended to cook two chicken breasts. But with no less success, you can bake chicken in the oven, if you prefer other parts, or take it in smoked form - "Chanterelle" salad with Korean carrots will get another gastronomic sound, but will not suffer from such a change. Chicken of the selected type is cut into cubes or disassembled into fibers - as you like.Three salted (can be pickled) cucumber crumble into strips. Two hundred grams of hard hard cheese rubbed on a large (but not Korean) grater. Mayonnaise is mixed with two crushed garlic cloves. All components are added to the common bowl, the Chanterelle salad with Korean carrot is poured over the dressing and mixed. You can eat right away, but it tastes better when it stays in the fridge a little and is mutually saturated with tastes and smells. You can make an interesting note in the dish if you sprinkle it with pomegranate seeds.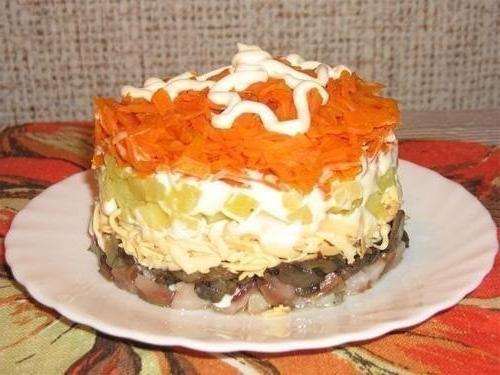 Meat "Chanterelle"
The composition is very modest, and the taste is impossible to tear off. It will take any cooked meat, except chicken. Properly cooked veal is especially recommended, but this is someone you like. The ingredients also need onions (as much as meat) and carrots (two to three times more). The onion component is cut with half-whelping and sent to the pan. It is better to let it in butter, but if you prefer vegetable oil, it will do. While onions reach transparency, root crops are rubbed and poured to it. Meat is cut into strips so that it looks harmoniously in the dish.That's almost ready "Chanterelle": the salad will remain salt, pepper, season with mayonnaise and stand for an hour in the refrigerator.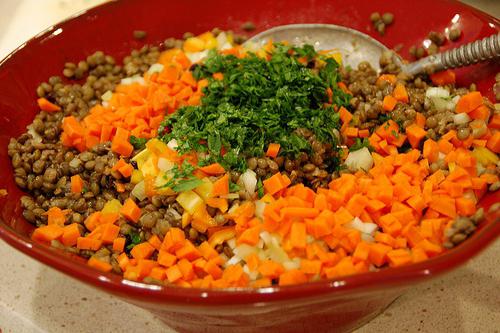 "Chanterelle and bun"
Such a dish will require from the hostess of design abilities - to justify the name. But in the preparation it is absolutely not complicated. The bulb finely crumbles, sprayed with lemon juice and marinated for about ten minutes. Three eggs are boiled, cleaned and cut - preferably straws. Fresh cucumber, two hundred grams of smoked chicken (not recommended to replace boiled) and one hundred grams of cheese are also cut. The last ingredient should be chopped especially thinly, but with a knife, and not grated. The bowl is composed of all the slices plus half a can of corn and onions. Separately cooked three large carrots and medium rub. In principle, this is already ready "Chanterelle" - you just have to put the salad in the correct position. The body of the chanterelle is formed from the main mass (or only the head as you wish), covered with carrots, the tips of the ears and tail are made of their egg whites, the olives will represent the eyes. Gingerbread man rolls out of grated cheese and yolk and laid out near the fox's nose.
Choose your favorite Chanterelle salad! A recipe with a photo will help determine preferences.
Related news
Chanterelle - a salad that will become a favorite image, picture, imagery